Have you ever wondered how technology is making security services in Ghana safer and more effective? In this blog, we'll explore the exciting ways technology is transforming the field of security services in Ghana. From innovative gated community security to the role of Magnum Force Security, we'll cover it all. Let's dive in!
What Technological Marvels Are Transforming Security in Ghana's Gated Communities?
Gated communities are gaining popularity in Ghana due to their promise of added safety. But what are the amazing technologies making these communities even more secure?
Digital Guardians at the Gate: Can you believe that with just a few taps on your smartphone, you can decide who gets access to your community? These digital gatekeepers, known as Smart Access Control Systems, enable residents to manage entry remotely, ensuring that only authorized individuals can enter.
Eagle-Eye Surveillance: In today's gated communities, top-notch surveillance cameras are a common sight. These cameras do more than just record events; they serve as a powerful deterrent to potential troublemakers.
Biometric Wonders: In some communities, it's not science fiction but reality. They use biometric scanners, which can recognize fingerprints or even your face, ensuring that only residents and approved visitors can gain entry. It's like something straight out of a futuristic movie!
How Is Technology Empowering Security Services in Ghana?
Now, let's widen our view and explore how technology is making security services in Ghana even more effective.
Guardians at the Ready 24/7: Security agencies are now keeping a vigilant eye on your property round the clock, all thanks to real-time monitoring. If anything unusual occurs, they can respond swiftly to ensure your safety.
Safety at Your Fingertips: Many security companies provide mobile apps that act as a lifeline. You can use these apps to request help or report incidents instantly, putting assistance just a few taps away on your smartphone.
Eyes in the Sky: Some areas are taking surveillance to the next level with the use of drones. These high-flying devices can cover extensive areas, supplying crucial information to security personnel. It's like having your own airborne security team!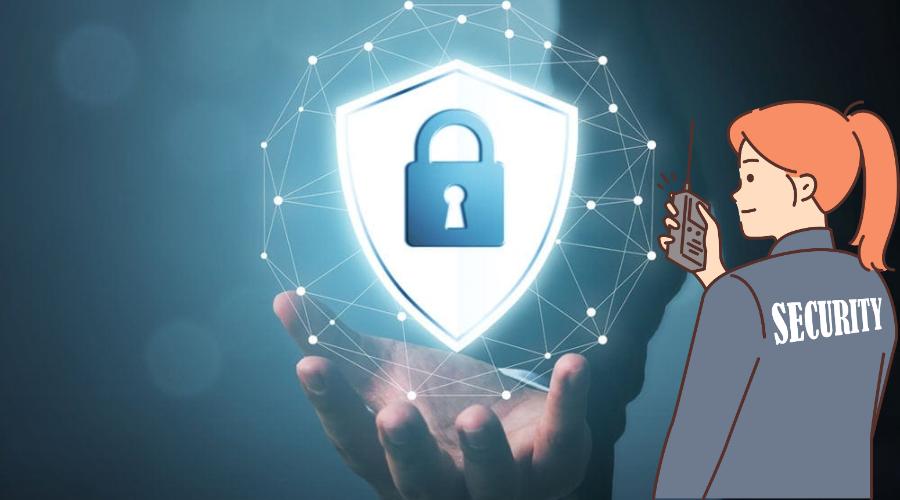 How Is Technology Unleashing a Security Services in Ghana?
Technology is not just boosting efficiency in the field of security; it's reshaping the way security services operate.
Anticipating Trouble with Predictive Analytics: Advanced software can do more than just crunch numbers. It can analyze data to foresee potential security threats. This incredible capability enables security agencies to take proactive measures to prevent incidents, keeping you safer.
Smart Surveillance with Artificial Intelligence: Artificial Intelligence (AI) is not just for movies; it's here to safeguard you. AI is employed to watch over security cameras and recognize suspicious behavior. What's more, it can differentiate between people and animals, reducing false alarms and ensuring a higher level of security.
Real-time Guidance through GPS Tracking: Ever wondered how security personnel stay coordinated and respond swiftly to emergencies? It's all thanks to GPS tracking. Security personnel can be tracked in real-time, allowing for smoother coordination and faster responses to keep you protected.
What Makes Magnum Force Security Your Ultimate Shield Among Trusted security agencies in Ghana?
After delving into the tech-driven improvements in security services, let's turn our attention to what sets Magnum Force Security apart as the go-to choice for your safety.
Years of Proven Excellence: Magnum Force Security has not just been around; they've been excelling for years. Their extensive experience in providing top-notch security services in Ghana is unrivaled. When it comes to safeguarding what matters most to you, you can trust their time-tested expertise.
Frontiers of Security Innovation: At Magnum Force Security, staying ahead of the curve is not a choice; it's their commitment. They are pioneers in adopting cutting-edge security technology, ensuring that their clients receive the highest level of safety. Your peace of mind is their priority, and they do it with the latest tools in the industry.
Dedication in Every Detail: The heart of any security service is its personnel, and Magnum Force Security prides itself on an exceptional team. Their security personnel are not just well-trained; they are also deeply committed to your safety. With Magnum Force Security, you're not just getting security; you're getting a team dedicated to your well-being.
Security Services in Ghana
At  Magnum Force Security Ltd, we are dedicated to safeguarding your peace of mind by delivering top-notch security services across multiple locations in Ghana. Our professional team is committed to ensuring your safety and protection in Kumasi, Sekondi Takoradi, Tamale, Achiaman, Sunyani, and other areas.
1. Guard Services: We offer highly trained and reliable security personnel to protect your premises, assets, and loved ones.
2. urveillance Solutions: Our cutting-edge technology ensures 24/7 monitoring and rapid response to any security threats.
3. Access Control: Keep unauthorized individuals out and secure your property with our advanced access control systems.
4. Alarm Systems: Early detection is key. Our alarm systems provide instant alerts for swift action.
5. Patrol Services: Mobile patrols to keep a constant eye on your property, even in remote locations.
6. Consultation and Risk Assessment: We tailor security plans to your specific needs and conduct risk assessments for proactive protection.
✅ Experience: With years of experience, we have a deep understanding of security in Ghana's unique landscape.
✅ Professionalism: Our team consists of trained experts who prioritize your safety and satisfaction.
✅ Affordability: Quality security should be accessible to all. We offer competitive rates.
✅ Local Expertise: We understand the specific security challenges in each of the areas we serve.
In the ever-changing landscape of security services in Ghana, technology is playing a pivotal role. From gated communities to the broader security field, innovations are making our lives safer. Magnum Force Security stands out as a trusted security agency that combines experience with cutting-edge technology. So, if you want the best security services in Ghana, look no further than Magnum Force Security!
If you're interested in enhancing your security services with Magnum Force Security, you can reach out to them at +233-0302-78192, Email: [email protected]